FAT BURNER & THERMOGENIC*
INCREASED METABOLISM & APPETITE CONTROL*
NONSTOP ENERGY & MENTAL CLARITY*
BPI Sports brought back the extremely powerful fat burner and weight loss supplement, RoxyLean™. This highly-concentrated thermogenic will have you shedding pounds in no time.
ALL-IN-ONE, POTENT FORMULA TO TORCH FAT!*†
RoxyLean™ is the ONE. This powerful fat burner was scientifically designed for those looking for extreme weight loss and striving to achieve that lean, shredded physique.
WEIGHT LOSS
This intense, highly-concentrated, fat burner features a synergistic and powerful mix of ingredients to increase your metabolic rate, for better results.*†
APPETITE SUPPORT
Besides shredding fat by increasing thermogenesis, this weight loss formula also helps curb your appetite between meals for better appetite control.*†
NONSTOP ENERGY
No need to worry about "the crash" or "jitters," RoxyLean™ is designed to provide sustained energy release, turning your body into a fat blasting machine.*†
FOCUS & WELL-BEING
This fat-burning supplement helps enhance mood, increase focus and mental clarity, for better workouts and productivity throughout your day.*†
Ingredients
GOLDENSEAL: This herb is a natural diuretic, eliminating accumulated toxins and water by promoting sweating and urination.*†
CAFFEINE: Caffeine is a staple ingredient in numerous fat burners since it's a stimulant that helps burn excess body fat through thermogenesis. In turn, your body temperature increases and so does your metabolism. With caffeine, your body burns calories faster and you can achieve more focus, for better performance.*†
YOHIMBE: This popular ingredient is well-known for its alpha-2 antagonist and CNS properties. It has been studied that using yohimbe before exercise may promote fat loss.*†
CITRUS LIMON: This natural diuretic helps curb hunger and decrease bloating, giving your weight loss efforts a boost.*†
WHITE WILLOW: This natural herb is believed to extend fat burning effects when combined with other ingredients, especially with thermogenic ingredients.*†
Thiamin 185 mg (Vitamin B1, as thiamin HCl and thiamin disulfide), Niacin (as nicotinic acid) 30 mg, ROXYLEAN™ Blend (Proprietary): Caffeine (as caffeine anhydrous), Lemon (Citrus limon) (whole), Adhatoda (Adhatoda vasica) (leaf), Yohimbe (Pausinystalia yohimbe) (bark), Goldenseal (Hydrastis canadensis) (root), White willow [(Salix alba) as Salicin, (root)], Chinese skullcap (Scutellaria baicalensis) (root), Rauwolfia (Rauwolfia serpentina) (root/rhizome)
Other Ingredients: Gelatin, magnesium stearate, Capsicum annuum (fruit), FD&C Blue No. 1, FD&C Red No. 3, FD&C Red No. 40, FD&C Yellow No. 6 and titanium dioxide.
Suggested Use:
Take one (1) capsule daily, in the morning on an empty stomach before food, or as directed by a qualified healthcare practitioner. Due to the extreme potential strength of this product Do Not Exceed more than one (1) capsule per day.
Warnings: Not intended for use by persons under age 18. Do not exceed recommended dose. Do not take for more than eight (8) consecutive weeks. Do not use if you are pregnant, nursing or allergic or contraindicated to aspirin. Discontinue use two weeks prior to surgery or if upset stomach occurs. Get the consent of a licensed physician before using this product, especially if you are taking medication, have a medical condition, or thinking about becoming pregnant. KEEP THIS PRODUCT AND ALL SUPPLEMENTS OUT OF THE REACH OF CHILDREN.
Caffeine warning: The recommended serving of this product contains approximately as much caffeine as three cups of coffee. Do not consume caffeine, or combine with synephrine, including but not limited to coffee, tea, soda and other dietary supplements or medications containing phenylephrine or caffeine. Too much caffeine may cause nervousness, irritability, sleeplessness, and occasionally rapid heartbeat. Discontinue use if you experience dizziness, severe headache, rapid heartbeat or shortness of breath.
Caution: RoxyLean™ contains the B vitamin niacin. Niacin may cause temporary flushing, tingling, skin reddening, and sensations of heat, especially if taken on an empty stomach. This is a common reaction.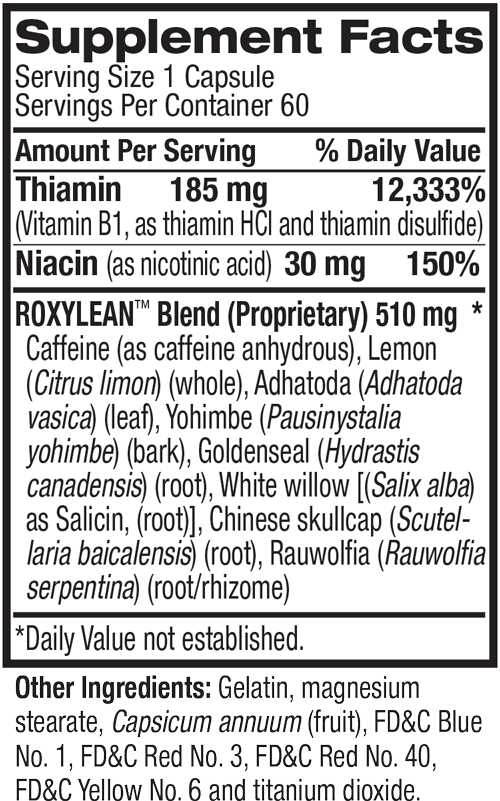 Commonly Asked Questions
WHAT ARE THE BENEFITS OF TAKING ROXYLEAN™?
This powerful fat burner has multiple benefits to support your weight loss efforts and fitness goals, such as increased energy and focus, higher metabolic rate and appetite support.
CAN I TAKE ROXYLEAN™ WITH A PRE-WORKOUT?
It is not recommended to stack this thermogenic, since RoxyLean™ already has enough caffeine to give you the nonstop energy you need for intense workouts, without any of the jitters.
CAN I TAKE ROXYLEAN™ MORE THAN ONCE A DAY?
No, it's not recommended to take this extreme fat burner more than once a day since the caffeine amount is equal to about three cups of coffee. Multiple doses RoxyLean™ can result in sleeplessness, nervousness and rapid heartbeat.
HOW MUCH CAFFEINE IS IN ROXYLEAN™?
One capsule is equal to about three cups of coffee.
HOW DO I BOOST THE POWER OF ROXYLEAN™?
It's important to drink a lot of water throughout the day when taking a thermogenic and stay hydrated, since you'll sweat more due to the higher metabolic rate. For maximum effectiveness, try to drink an entire glass of water when taking the capsule.
BPI on Instagram
What our customers are saying